As a long time committed city-mouse, I didn't put much weight on large gardens when we were looking for properties. We wound up with a little bit of garden space. I've planted a bunch of stuff, and much to my delight, most of it isn't dead yet. Actually, a lot of it is producing very nicely so far. I've yet to spot signs of a slug, and the soil is light, sandy, well draining, and moderately fertile.
The garden is naturally having an effect on what goes into my cooking pot – I'm coming up with dishes that are a little different in style than what I used to cook in the city. I thought I'd do a little series of posts containing recipes based on stuff from the garden (or from nearby farms). All recipes that I will post will be gluten-free and soy-free. The first one happens to be vegetarian as well.
Lemon Balm-Asparagus Risotto
This recipe is the great great grand nephew of the recipe Risotto Di Scampi Agli Asparagi from the website of the Accademia Italiana Della Cucina — which is to say that maybe there is some vague resemblance around the eyes…… The fresh herbs in the recipe come from the hanging baskets I planted up a couple of months ago. The borage leaves and flowers are optional to the recipe, but they do give a nice fresh cucumbery counterweight to the rich and creamy rest. The asparagus is from a local farmer who comes around in a truck with his wares, reminding me of the ice cream man of my youth. The addition of mascarpone is referred to around our home as "Juliette's trick", in honor of it's source.
Feeds 2 very hungry people, or up to 4 with more dainty appetites.
Ingredients
1 bundle white asparagus
250 g Arborio rice
2 shallots, minced
1.5 tbsp butter
1 large bay leaf
pinch sea salt
a good-sized bunch of lemon balm
a few sprigs of lemon thyme (optional)
2 borage leaves (optional)
1 small clove of garlic
white pepper to taste
1 glass dry white wine
45 g parmesan
1 heaping small spoonful mascarpone
a few borage flowers
Method
Wash the asparagus, and cut and discard the bottom few millimeters. Peel the asparagus with a vegetable peeler, reserving the peels. Cut the asparagus into 2cm sections, keeping the very tips separately from the rest.
Boil the asparagus peels with approximately 1 liter of water for about 7 – 10 minutes. Strain out the peels and discard them.
In a small food processor (or using a grater and a knife), mince together the lemon balm, lemon thyme, borage leaf, garlic, pepper, and parmesan. Set aside.
Melt the butter in a large pan over medium heat. Add the dry rice, shallots, bay leaf, and asparagus stem segments (but not the tips yet). Fry until the rice turns mostly translucent.
Add a pinch of sea salt, and a ladle of asparagus peel water. Cook, stirring, until liquid is mostly evaporated. Continue adding ladles of asparagus water and letting it cook away. Add the asparagus tips after the second or third ladle full. Keep checking the doneness of the rice. When it is just about cooked through, switch from asparagus water to white wine.
Turn the heat down, and stir in the lemon balm/parmesan mixture. When fully incorporated, check for salt, turn off the heat, and stir in the mascarpone.
Garnish servings with borage flowers.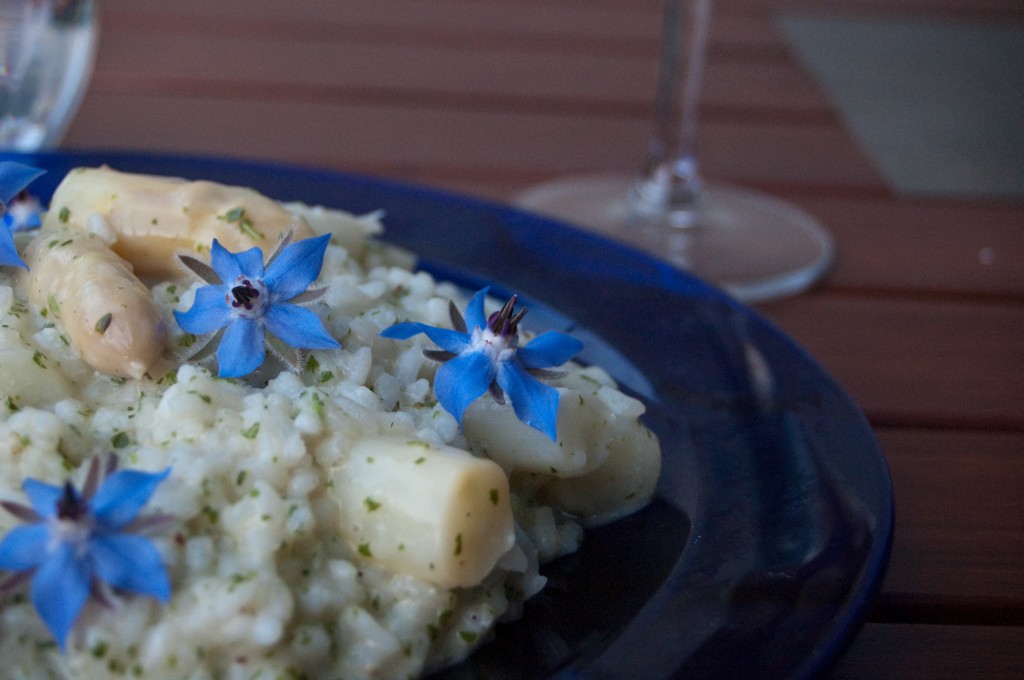 © 2011 – 2012, Converting a Church. All rights reserved.